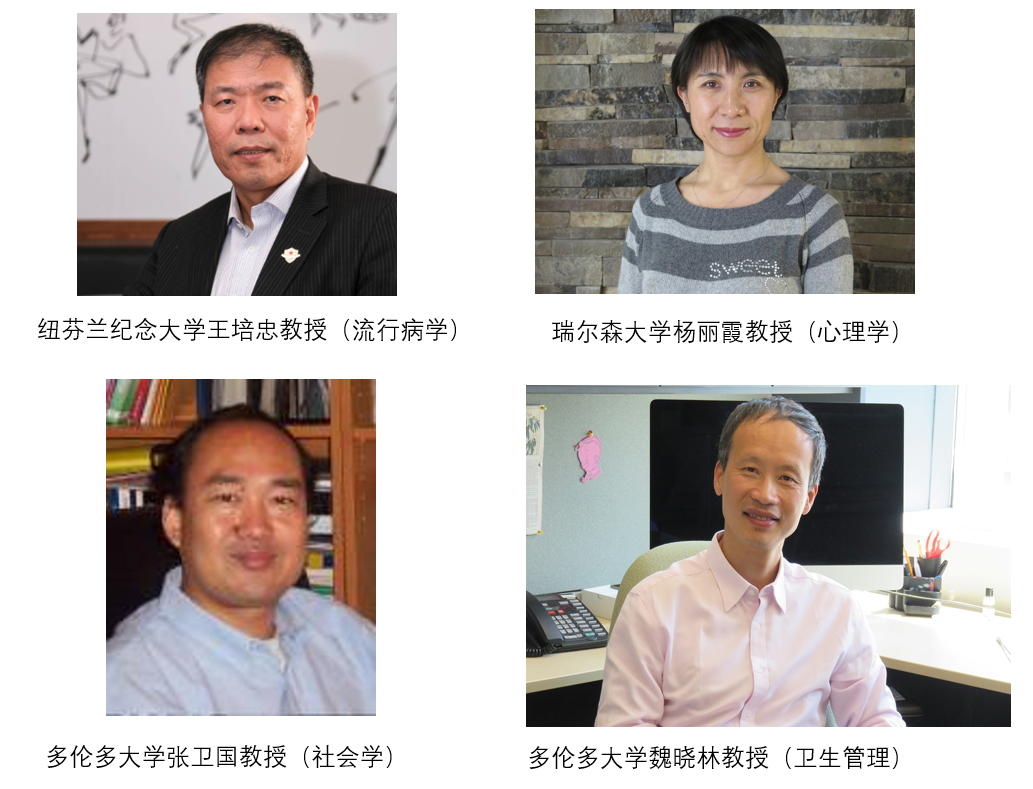 Principal Investigator:
Dr. Wang is a tenured professor in the Division of Community Health and Humanities and crossly appointed professor in Clinical Epidemiology, Faculty of Medicine, Memorial University of Newfoundland and a senior scientist at BHCRI. He graduated in Medicine from Tianjin Medical University, China and received his PhD in Epidemiology from the Dalla Lana School of Public Health, University of Toronto.
Dr. Wang has extensive research experience with broad interests including: cancer epidemiology, arthritis and disability, immigrant health and quality of life, aging, health surveys, and epidemiological modelling. Dr. Wang is a reviewer for a number of funding agencies and academic journals. He has published more than 100 articles in peer reviewed scientific journals. In the past 10 years, Dr. Wang's main research focus has been in epidemiology of colorectal cancer, and his research in this area has been well recognized internationally.
In addition to his primary academic affiliation, Dr. Wang also held or holds academic appointments in other institutes, such as University of Toronto, University Health Network, Tianjin Medical University, Wenzhou Medical College, and Weifang Medical University. Each year, he spends about 2-3 months in China as part of international collaboration.
Dr. Wang is committed to teaching and training future public health researchers and practitioners. He teaches both undergraduate and graduate classes at Memorial University of Newfoundland and Tianjin Medical University. The courses Dr. Wang has chaired or taught in the past 10 years include Introduction to Epidemiology, Introduction to Community Health, Advanced Epidemiology, Chronic Disease Epidemiology, Research Methods and Cancer Biology, Survival Analysis, and Genetic Epidemiology. Dr. Wang has been a thesis supervisor or a supervisory committee member to more than 30 M.Sc. or Ph.D. students in Canada and China.
Among much recognition, Dr. Wang received the Arthritis Society and CIHR Joint Fellowship Award, distinguished visiting professor award from Tianjin Government, and Science and Chinese National Technology Achievement Award. He has been a lead investigator or a co-investigator for more than 40 research grants that have been supported by various provincial, national, and international funding agencies.
Co-principal Investigator:
Dr. Yang received her Ph.D in psychology from Chinese Academy of Sciences in 2000. She then worked as a postdoctoral research fellow first at the Max‐Planck Institute for Human Development in Berlin, Germany, then at the University of Toronto. In 2005, Dr. Yang joined the Department of Psychology at Ryerson University.
Dr. Yang's research covers three related areas: cognitive plasticity of the aging brain; cultural differences in social engagement and cognition; as well as age-associated differences in memory, executive functions, and more specifically processing emotional information. Her research has been funded through NSERC and Canadian Institutes of Health Research (CIHR). To date, Dr. Yang has 54 peer-reviewed publications, a list of 35 invited talks and 80 conference presentations. Her research has been published in high-impact journals such as Brain and Cognition, Cognition and Emotion, Psychology and Aging, and Psychological Science. As a recognition of her contribution to student supervision, Dr. Yang received the Ryerson 2015 YSGS (Yeates School of Graduate Studies) Outstanding Contribution to Graduate Education Award. In professional service, Dr. Yang served as the associate editor for the Wiley Blackwell Encyclopedia of Adulthood and Aging and as a reviewer for a list of journals and grant agents.
Dr. Yang has taught a variety of undergraduate (e.g., Child Development, Adult Development, Introduction to Psychology, and Advanced Seminars in Development or Cognition) and graduate courses (i.e., Advanced Seminar in Cognition, Cognitive Aging, and Psychology of Aging). She has been nominated by students as "A Prof Who Made A Mark" in 2014. Meanwhile, Dr. Yang has been actively involved in supervising undergraduate honors thesis, practicum students, undergraduate research assistants, and independent research projects in Psychology.
Co-Investigator
Weiguo Zhang is Associate Professor of Sociology at the University of Toronto Mississauga and faculty affiliate at the Institute for Life Course and Aging, and Munk School of Global Affairs and Public Policy. Zhang is a social demographer by training. In addition to studies of ageing, fertility, family planning policies, he also does research in the area of sociology of families and social gerontology. His earlier research focuses on Chinese families, marriage, women, formal and informal care for seniors in Chinese society in mainland China, using both demographic techniques and ethnographic methodology. His current research focuses on Chinese immigrant community in Canada. It covers the following topics in several SSHRC supported projects or University of Toronto internal funding researches: (1) The changing sociodemographic profile of Chinese in Canada; (2) Intra-group dynamics and social exclusion: experience of mainland Chinese immigrants to Canada; (3) Health and wellbeing of Chinese older immigrants in Canada; (4) Chinese immigrant organizations in the Greater Toronto Area. He uses a variety of quantitative and qualitative methods, to analyze either the existing Canadian current and historical population census data, or qualitative data collected through in-depth interviews, focus group discussions, and participant observations. Over the years, Dr. Zhang has established strong collaborative research relationships with the local Chinese organizations and national organizations. He has also involved community members as co-authors in participatory action research. Zhang's role in this project is to lead and oversee overall strategic direction, research logistics, student research assistant training and supervision, stakeholder contacts, and research output development and knowledge mobilization
Co-investigator:
Research Interests
Global health, focusing on clinical public health interventions in prevention and control of antimicrobial resistance (AMR), tuberculosis (TB), and hypertension and diabetes in low and middle-income countries (LMICs)
Operations research, randomized controlled trials, cohort studies
Primary care reform and policy evaluation
Biography
As a physician, public health specialist, and public health researcher, I have trained and taught in China (including Hong Kong), the UK and Canada. For the past 20 years, I have helped lead a global team of scientists to successfully explore interventions that combine public health education and stewardship around TB, respiratory infections, hypertension and diabetes at the point of clinical care delivery. I also focus on combined strategies involving social inclusion, gender responsiveness and poverty reduction in China, the Philippines, Indonesia, Pakistan, Nepal, Bangladesh, Uganda, Ghana, and Swaziland.
At the University of Toronto, I am the Dalla Lana Chair in Global Health Policy and an associate professor at the Dalla Lana School of Public Health. I am a member of the Board of Directors and served as immediate Vice-President of the International Union Against Tuberculosis and Lung Disease.