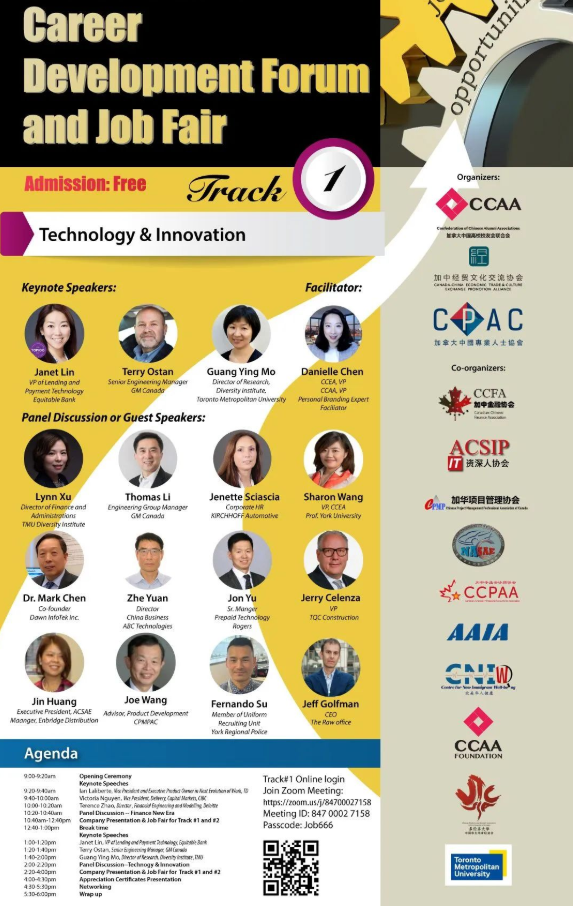 CNIW News: May 3, 2023:
Co-hosted by CCAA, CCEA, and CPAC, and co-organized/supported by 10 industry associations/societies/universities, the "2023 Professional Career Development Forum and Job Fair" will be held in Toronto on May 5th, 2023 from 9:00 AM to 6:00 PM. The Centre for New Immigrant Well-Being (CNIW ) is of the co-organizers for this major event.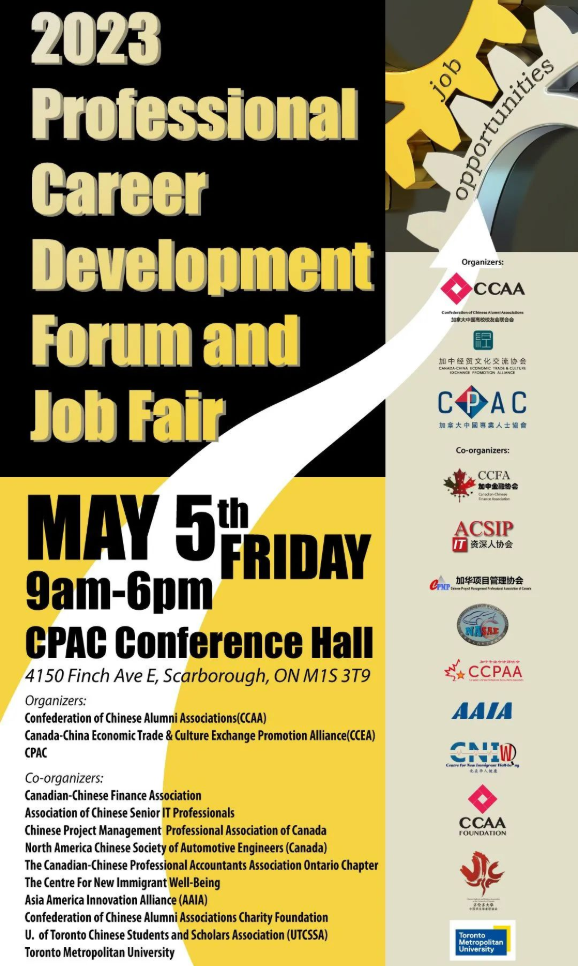 At that time, local businesses, industries, finance, education HR, senior professionals, job seekers, and media units will gather together. This is another grand event following the success of the "2022 Professional Career Development Forum & Virtual Job Fair" in Canada. According to the executive director of CCEA, Mr. Cheng Zeng (曾诚), this event will invite employers and senior industry experts to conduct face-to-face exchanges on the development trends and challenges of various industries, employment prospects, professional requirements, job search skills, interview preparation, career development, and other related topics. Senior industry experts will deliver exciting keynote speeches.
There are six highlights of this JOB FAIR:
This is the largest offline job fair, organized by three influential Chinese community organizations and 10 top Chinese professional associations and universities in Canada.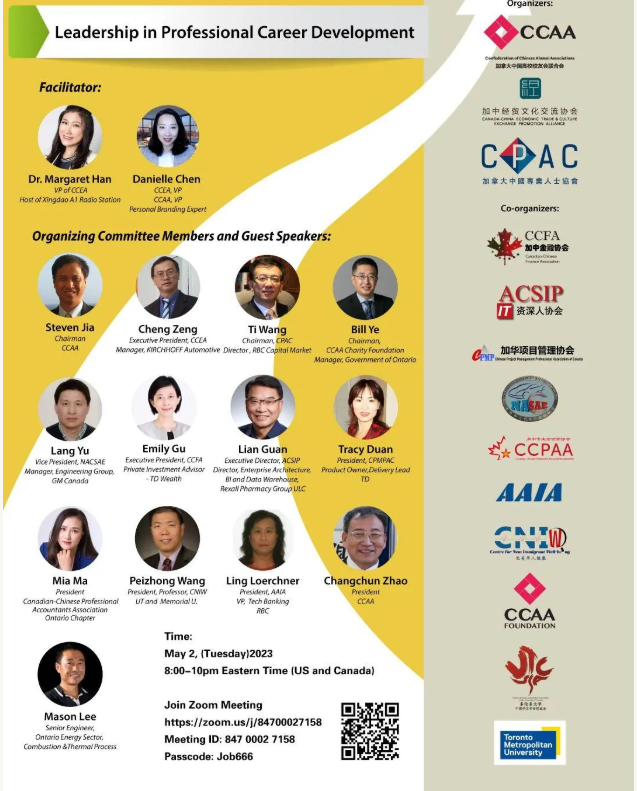 2. Many reputable and powerful recruiting units will participate, including those in engineering, finance, IT, PMP, accounting, trade, and healthcare industries, providing one-stop services in the conference hall of CPAC.
3. The guest speaker lineup is strong, with many VP executives from famous companies and industry leaders giving keynote speeches. Numerous senior experts have been invited to share their forward-looking insights, true understanding of their respective industries, and personal career success stories.
4. The event format is diverse, with forums focusing on the future of the industry, company booths showcasing and introducing job positions, as well as offline activities such as resume enhancement, interview skills training, job-seeking assistance, and networking.
5. The coverage is extensive, not only promoting in major community organizations, but also inviting Canadian university career centers and student scholar associations, as well as live streaming online to allow alumni who cannot attend in person to participate.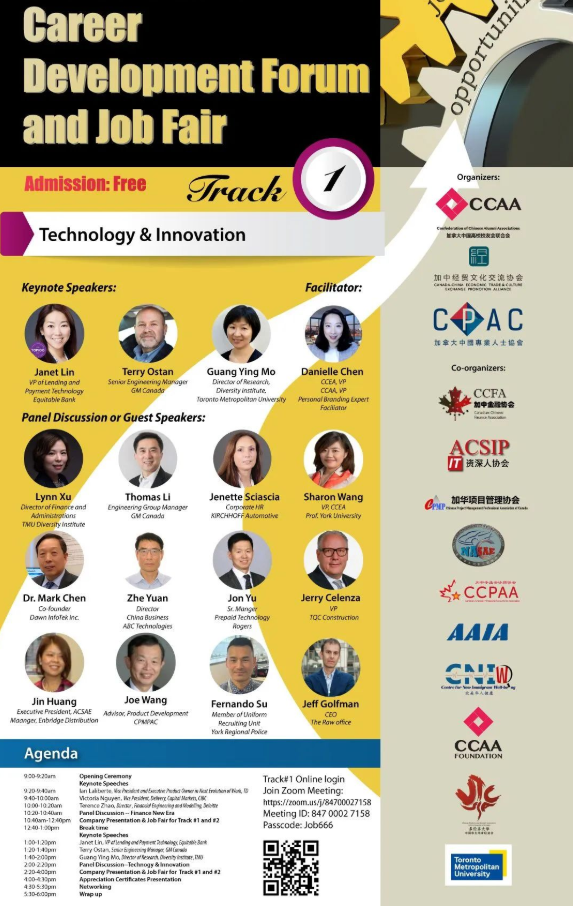 6. Generous support from sponsors and the selfless dedication and continuous improvement of all the volunteer organizers. In the past month, the organizing committee has been working hard. As of now, more than 30 companies and organizations have confirmed their participation in this professional career forum and job fair, ensuring a fruitful outcome for all attendees.
Event details and agenda are as follows:
9:00-9:20am   Opening Ceremony
9:20-10:20am Keynote Speeches Finance New Era
10:20-10:40am Panel Discussion– Finance New Era
10:40am-12:40pm
Company Presentation & Job Fair for Track #1 and #2
12:40–1:00pm Break time
1:00-2:00pm Keynote Speeches–Technogy & Innovation
2:00-2:30pm Panel Discussion–Technogy & Innovation
2:30-4:00pm
Company Presentation & Job Fair for Track #1 and #2
4:00pm-4:30pm Appreciation Certificates Presentation
4:30pm-5:30pm Networking
5:30pm-6:00pm  Wrap Up
Address: CPAC Conference Hall, 4150 Finch Ave E, Scarborough, ON M1S 3T9